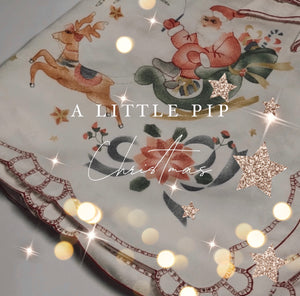 Christmas is coming!!! This listing is for one raffle ticket for an entirely unique, no expenses spared, one of a kind couture handmade Christmas outfit for your little one with the pictured cloth being the main event! The one and ONLY Christmas piece I'll be making this year and will be paired with beautiful vintage laces and trims! 
The design will be a surprise by me and will be all the festive, lacey, vintage 'extra-ness' you can imagine which you will have in time for the big day (0-10y available)
The tickets are £2 each, a maximum of 10 per person and there are a total of 150 available with 116 now left after my reps 𝑻𝒉𝒂𝒏𝒌 𝒀𝒐𝒖! Once they have sold out I'll announce the winner via social media and you directly via the contact details you provide during checkout (postage will automatically be free, you will just pay for tickets) 
I'm super excited to create this design and I really hope you like this idea! Any questions in advance please don't hesitate to get in touch!
*FREE POSTAGE AND GUARANTEED PRE-CHRISTMAS DELIVERY TO UK ADDRESSES